Online support chat room
Would you rather chat with us to keep a written log of our communication? No problem. Just click on the happy face bellow and you will be connected to one of our representatives.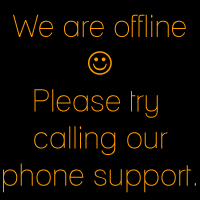 Email support
Are you visiting our page after business hours? If so, just take a minute to email us any question you may have. Unlike phone support, our email support is 24/7. You'll be pleasantly surprised by our quick support response time. Simply fill out the form below, send it to us, and we will be happy to provide you with a quick, detailed response to a question or request for support.
Phone support
This is the best way to reach us. During the business hours, your call will be answered by a live person and not a machine. So there is no waiting. Nor will you be transferred from one extension to another. We care about our customers and will do our very best to assist you with your project in a timely manner.
Toll Free:
1 (800) 324-1617
Monday – Friday
9:00AM to 6:00PM
Client login
Did you know that we offer an inclusive ticketing & management capability through our customer support system? Simply log into your account and review your project-related materials and reports. Then send us a ticket for any problem or issue you need help with. You may also call our customer support number if you require immediate support.
---
---
Directions and Map
---
---